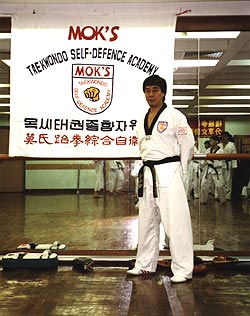 CHARLES MOK

Grand Master
Korea Kukkiwon Black Belt 9th Dan
Korea Chung Do Kwan Black Belt 9th Dan
International Master Instructor
Special Class International Referee
Hon. Technical Consultant of China Sichuan Taekwondo Association
Senior Technical Advisor of Taipei City Taekwondo Association
World Taekwondo Hall of Fame Leadership 2011
Korea Kukkiwon Oversea Individual Membership
St John Ambulance Bridge ( Volunteer) First-Aider
H.K. Fire Service Appointed HEART-SAVER Member
H.K. Television Broadcasts Ltd Olympic Games Professional Commentators
(H.K. Leisure & Cultural Services Department Registered Coach)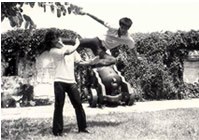 Mr. Charles Mok started practicing Chinese Kung-fu when he was young. A few years later, in 1965, when the first Korean Taekwondo master came to Hong Kong, Mr. Mok began learning Taekwondo from him. Altogether, Mr. Mok has more than 30 years of experience practicing different kinds of martial arts, which include Taekwondo, Chinese Kung Fu and Korean Hipki-do. Integrating various martial arts techniques, Mr. Mok established MOK'S TAEKWONDO SELF-DEFENCE ACADEMY in 1981.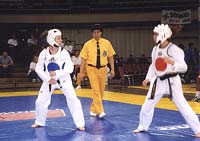 During these years of practice, Mr. Mok has obtained quite a number of prizes, awards and lots of recognition, not only from local Taekwondo activities, but also from international events and affairs. Apart from Hong Kong, Mr. Mok has started a Taekwondo Training Centre in China Sichuan and his continuous contribution has been recognised by the Chinese government .In 1998, Mr. Mok was appointed as the Honorary Technical Consultant of the Sichuan (China) Taekwondo Association and in 1999 Mr. Mok was appointed as the Technical Consultant of the Taipei City Taekwondo Association, the Taekwondo Committee of Taipei Fsien Athletic Club, and the Taekwondo Committee of Tu-Cheng City Athletic Club, Taiwan.

At the beginning of 2000, Mr. Mok was appointed as a Junior Committee Member of the World Taekwondo Federation, whose role is mainly managing international Taekwondo activities for juniors.
In December 2001, Mr. Mok was promoted to Korea Chung Do Kwan Black Belt 9th Dan, and is the first person in Hong Kong to be granted this high degree.
Recently, Mr. Mok has been promoted to Special Class International Referee, once again, the only person in Hong Kong with this senior international referee qualification.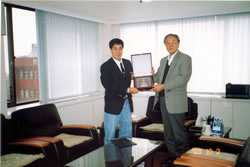 With great pleasure and immense pride we announce that in October 2003, our Grand Master Charles Mok Hung Fai, The World Taekwondo Federation Black Belt 8th Dan, Korea Chung Do Kwan Black Belt 9th Dan, International Master Instructor, Special Class International Referee was awarded the coveted International Referee 'Order of Merit' presented by The World Taekwondo Federation Secretary General Mr. Kum Hong Lee in Seoul, Korea. The World Taekwondo Federation bestowed this honour on him in recognition of his immense contribution in promoting Taekwondo, and for completing 25 years of service as an International Referee S Class. Grand Master Charles Mok Hung Fai is the first and only recipient of this great honour in Hong Kong.