The 2nd Korea-Gyeongiu International Women Taekwondo Open Championship,
31th August 2003 to 2nd September 2003

From August 30 to September 2, The 2nd Korea - Gyeongbuk International Women's Taekwondo Open Championships were organized by the Gyeongbuk Taekwondo Association in Korea.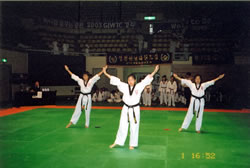 The championships were divided into three categories: Free Sparring, Pattern and Taekwondo Dance.

Carmen Wu, Annora Ng and Elsie Lam represented Mok's Taekwondo Self-Defence Academy in the Free Sparring and Pattern competitions. Their contribution was highly appreciated by the organizers.

Our Grand Master, Charles Mok Hung Fai was one of the prestigious referees in these championships. For his contribution he was awarded The Best Of Referee award.