Referee course, 28th April 2002
WTF had passed the proposal to amend the competition rules on the 15th General Assembly on 31st October 2001. The new rules have been effective since 1st July 2002. It is essential for all taekwondo players to understand them.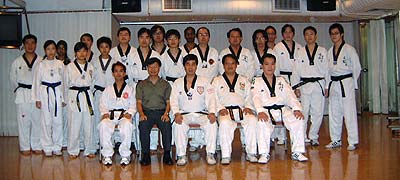 Consequently, Grand Master Mok Hung Fai had organized a referee seminar on 28th April 2002 in Club Grand. It was a one-day course which included two parts, the theory and practice. In the theory part, Grand Master Mok explained the new design of the competition area, the marking and weight separation method of groups, the new match durations of male, female and children, the permitted actions which can gain points, the prohibited actions which will be punished by deducting marks, as well as the new referee hand signals.
In the practical part, all participants had great opportunity to apply the theory into the simulated environment of a competition. To make the situations more realistic, we had protector-geared demonstrators and the prohibited actions were carried out in random manner. As a result, the participants' knowledge of the rules and the theory was strengthened.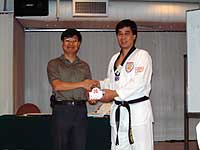 There were twenty-two participants who completed this course. The participants not only came from Mok's Taekwondo Self-defence Academy but other taekwondo clubs as well. Furthermore, we had invited Mr. Siu Yau-ming, senior officer of the Leisure and Culture Service Department of HKSAR, to be our guest of honour. At the end of this course, all participants were given a participation diploma by Mr. Siu.
Click here to View the photos of the event